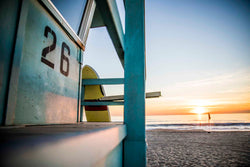 I took this photo for a friend of mine, for whom this particular life guard tower has a special meaning. Everything came together perfectly: the guard had left the surfboard leaning against the tower, the sun was setting, a single surfer was still in the water. This has been one of my most popular photos since.
All artwork is original work by Sandra Meyer and built to order. Online orders are available with limited size and frame options. Interested in a different size or custome frame? Please contact us directly to discuss how we can create the piece you are looking for!
Fine Art Prints - with Gallery Frame
We use subtle gallery frames that add a proportionate, thin border around the outside of your piece and let the artwork take center stage.
Available in black and white.
All pieces come with white 1.5" to 3" matting.
Frame and matting are included in the total size measurement of your artwork.
Canvas Print - with Floating Frame
The floating frames for our canvas prints offer a contemporary and unique choice.
Available in white, black, silver and gold.
Wrapped canvas is inset, leaving a 3/8" space between canvas and frame.
Frames add approximately 1" to each side of the artwork.
Canvas back is covered by a white dust cover with a nice waxy finish.
Hanging hardware is included.