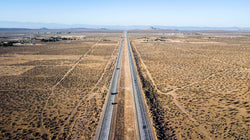 One of my favorite drives ever: Highway 395 through the desert to Mammoth Lakes. Almost every time we go my family indulges me and lets me stop for a while to fly the drone.

All artwork is original work by Sandra Meyer and built to order. Online orders are available with limited size and frame options. Interested in a different size or custom frame? Please contact us directly to discuss how we can create the piece you are looking for!
Fine Art Prints - with Gallery Frame
We use subtle gallery frames that add a proportionate, thin border around the outside of your piece and let the artwork take center stage.
Available in black and white.
All pieces come with white 1.5" to 3" matting.
Frame and matting are included in the total size measurement of your artwork.
Canvas Print - with Floating Frame
The floating frames for our canvas prints offer a contemporary and unique choice.
Available in white, black, silver and gold.
Wrapped canvas is inset, leaving a 3/8" space between canvas and frame.
Frames add approximately 1" to each side of the artwork.
Canvas back is covered by a white dust cover with a nice waxy finish.
Hanging hardware is included.