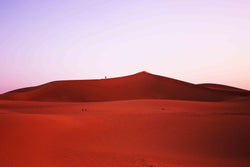 During our stay in the Erg Chigaga desert in the Sahara we had a chance to board down one of the magnificent sand dunes. Our jeep got stuck in the sand on the way, and when we finally arrived at the dune, we saw a lone climber who had almost made it to the top in front of us. It was nerve wrecking and exhilarating at the same time.
All artwork is original work by Sandra Meyer and built to order. Online orders are available with limited size and frame options. Interested in a different size or custome frame? Please contact us directly to discuss how we can create the piece you are looking for!
Fine Art Prints - with Gallery Frame
We use subtle gallery frames that add a proportionate, thin border around the outside of your piece and let the artwork take center stage.
Available in black and white.
All pieces come with white 1.5" to 3" matting.
Frame and matting are included in the total size measurement of your artwork.
Canvas Print - with Floating Frame
The floating frames for our canvas prints offer a contemporary and unique choice.
Available in white, black, silver and gold.
Wrapped canvas is inset, leaving a 3/8" space between canvas and frame.
Frames add approximately 1" to each side of the artwork.
Canvas back is covered by a white dust cover with a nice waxy finish.
Hanging hardware is included.